Needham High School
Class Of 1969
In Memory
Toby Sanders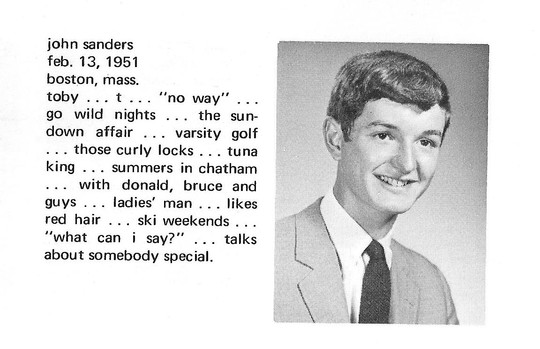 John Christopher ("Toby") Sanders passed away on November 26, 2015 at home surrounded by his family. Born in Boston, the son of Charles Edwin and Guida Elizabeth (Jackson) Sanders, Toby grew up in Needham and graduated from Needham High School where he was a member of the golf team. A summa cum laude business graduate of Boston University, Toby received his MBA from the Kellogg School of Management at Northwestern University.
In 1974, Toby joined Coopers and Lybrand in Boston where he worked until 1981 when he moved to Cape Cod. In 1990, he formed Sanders Walsh & Eaton LLP with colleagues Michael Walsh and Forrest "Al" Eaton. As a member of the American Institute of CPA's and the Massachusetts Society of CPA's, Toby proudly served his clients from the firm's Chatham and Osterville offices. Toby was likewise committed to the Cape community and served for many years as a trustee of Heritage Museum & Gardens in Sandwich, as a trustee and member of the executive and risk committees of the Cape Cod Five Cents Savings Bank in Orleans, and trustee of the bank's Charitable Foundation Trust.
From a very young age Toby summered in West Chatham with his family. Toby's fifty-three year love affair with the game of golf began in 1962 when his parents joined Eastward Ho! in Chatham. His home away from home, Toby began working at the club at the age of 15 and eventually served as its president from 2000-2003. His skill as a golfer earned him the Men's Club Champion, five-time Senior Men's Champion and countless other awards, including competing in the Massachusetts Amateur Championship. His passion for the game took him to Bermuda and Ireland, and he longed to play in Scotland.
Toby is survived by his loving wife, Lindsay Sanders and their daughter, Hayley Sanders, of Brewster, and his stepson Ryan Cullinan, of Orleans; by his former wife Mary Childress, of Harwich, and their daughters Laura Tomlinson and her husband Raymond of East Sandwich and Diana Sanders and her fiancé Timothy Ryan of Newport, RI; sister Pamela Watson and her husband Richard, of Harvard. Toby also leaves two grandsons, Jack and Henry Tomlinson; sister-in-law Paula Sanders; nephew Mark Sanders; and niece Erica Schaad and her husband Brian. Also surviving Toby is his uncle, Frank Sanders, of Houston, Texas. Toby's parents and his brother, Peter Sanders, predeceased Toby.
A service will be held on December 11, 2015 at 11:00 AM at the Brewster Baptist Church, 1848 Main Street, Brewster, MA 02631. A celebration of his life will follow at Eastward Ho!, 325 Fox Hill Road, Chatham, MA 02633. In lieu of flowers, donations in Toby's honor may be made to the John C. "Toby" Sanders Charitable Fund, c/o Cape Cod Five Cents Savings Bank Trust & Asset Management, 20 West Road, P.O Box 20, Orleans, MA 02653.