Needham High School
Class Of 1969
In Memory
Peter Robart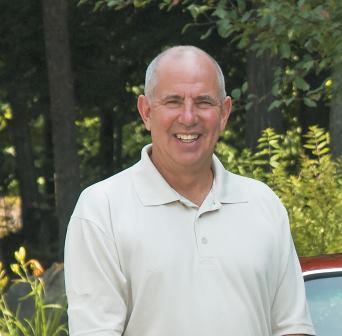 Peter G. Robart of Hampton Falls, NH passed away peacefully, surrounded by his family, on May 21, 2017 after a long period of declining health. Peter is survived by his wife of 37 years, Jane Shanahan, his daughter Katherine Robart Bal and her husband Erik Bal, of Minneapolis, MN, his daughter Jennifer Robart and her fiance, Matt Campbell of Medford, MA, his brother Mark Robart and his wife Lisa Borinsky of Somerville, MA; several nieces and nephews, and his beloved yellow lab, Teddy. He was predeceased by his mother and father, Joan and Frank Robart of Needham.
Peter grew up in Needham and was a 1969 graduate of Needham High School. He was a 1973 graduate of the University of New Hampshire, where he met his wife Jane. Peter co-founded Bavarian Autosport in 1974, Great Bay Spa and Sauna in 1978, and Selectwood in 1982, in Newmarket, NH with his two longtime friends and business partners, Mark Ruddy and Dave Wason. The businesses relocated to Portsmouth in 1995. The three men remained constant friends and co-owners of the businesses until the time of Peter's passing.
Peter and Jane were residents orf Hampton Falls for 40 years. Peter was deeply involved in town government, serving as a Selectman from 2003 - 2006. His volunteer leadership of the Town Improvement Committee and Recreation Commission resulted in many projects that will continue to benefit residents for years to come. Peter was instrumental in the enhancement of the Town Common and the development of the Governor Weare Park playing fields managing every aspect, from the scheduling of games to the field's maintenance and sprinkler system. His advice and knowledge about construction was vital to the success of many other town projects, including critical renovations and improvements to the historic Town Hall and the structural framework of the Old Stage Road covered bridge. He also served on the Capital Improvement Committee and Planning Board. Hampton Falls will remember Peter not only for his generosity, but as someone who contributed his energy and ideas, and was always happy to get his hands dirty.
Peter was a man of many passions, including windsurfing, skiing, golf, jazz, woodworking, and ice hockey, which he played multiple times a week until his illness. He loved spending time at home with his family and was never happier that when he was outside mowing hs lawn or working in his garden with Jane.
The Robart family is grateful to the nurses and staff at the Edgewood Center in Portsmouth for the loving care Peter received. A celebration of Peter's life will be held in the coming weeks.
In lieu of flowers, contributions may be made to the Peter Robart Scholarship Fund at UNH. These donations should be made payable to the UNH Foundation, 9 Edgewood Road Durham, NH 03824, please reference Peter Robart Scholarship Fund with your donation.
Please visit the Brewitt Funeral Home website www.brewittfuneralhome.com for further details.