Needham High School
Class Of 1969
Photos Then and Now
---
---
A blast from the past !
Visited the Needham Historical Society office recently
Here are some great photos from their archives.
* * * *
1960's ?
IMPORTANT UPDATE AND CORRECTION: June 24, 2014 Today I received an email message from Steve Ford - NHS '68. He tells me this photo couldn't have been taken in the '60's because he spotted a VW Rabbit in the picture and they weren't introduced until the mid '70's. Thanks for pointing that out.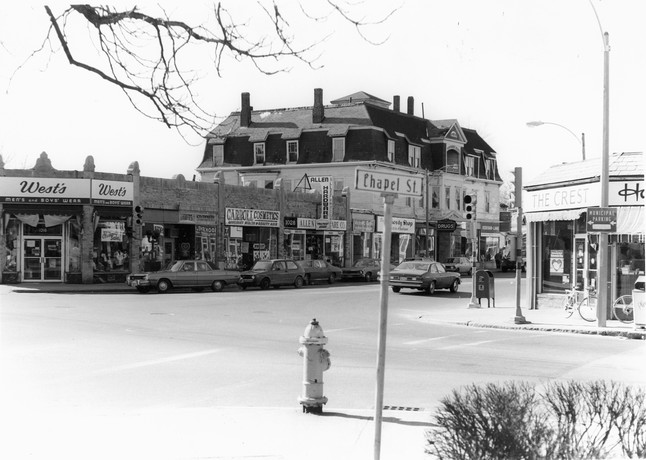 ---
---
Photo below taken about 1948 - standing on the Common, looking down Great Plain Avenue toward the movie theater.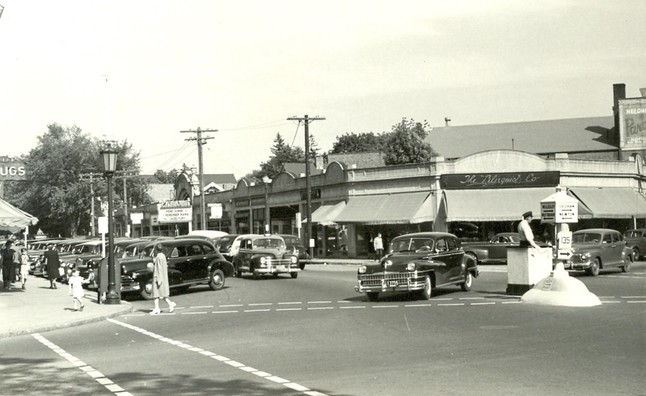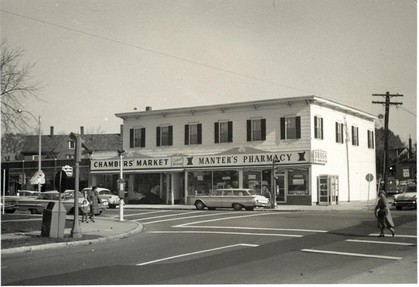 Needham Heights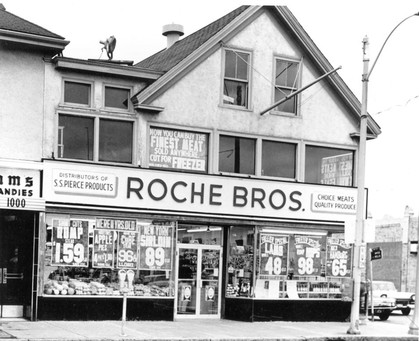 Great Plain Avenue at Chestnut Street
---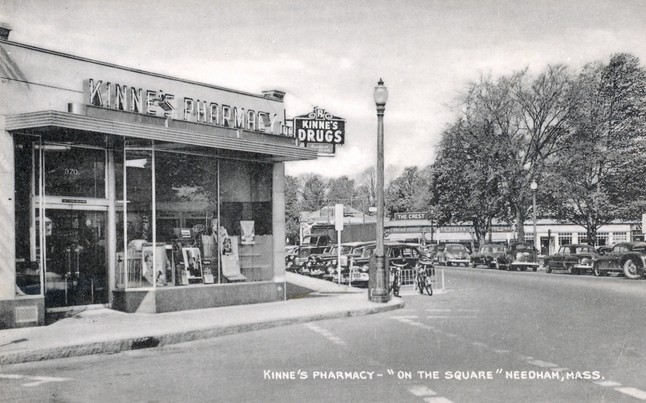 ---
---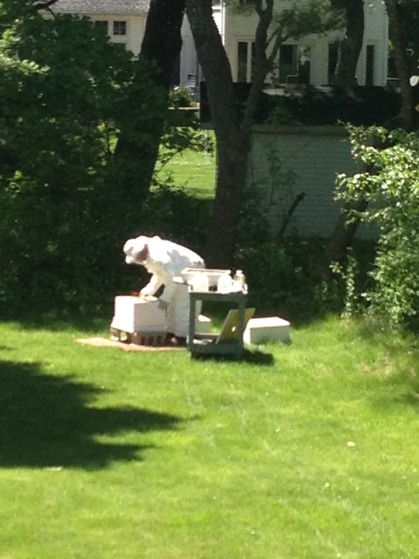 Beekeeper Frank Gallello tending to the hives
---
---
January 2011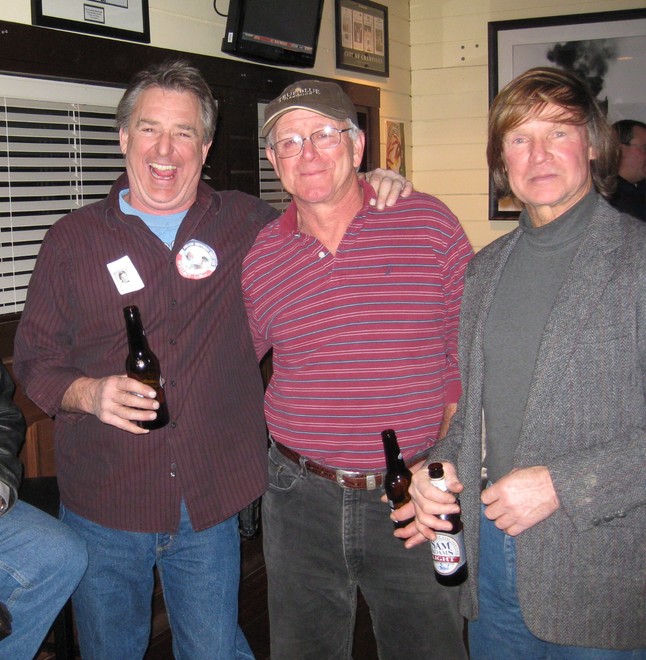 Joe Lemay, Ted Hasenfus, Steve Wallace
sharing stories, and a few laughs with old friends
Priceless !
---
Received this recent photo from Jay Gledhill following his trip to Maine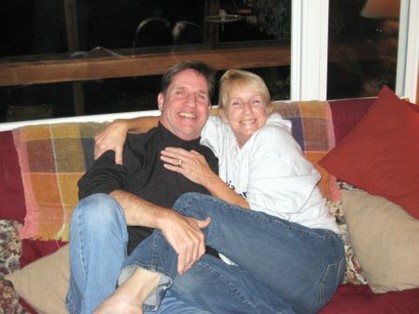 It's Linda Godfrey Savage with her brother Scott.
---
September 2010
Mr. Terrenzi's Advanced Placement Class
Who are these guys ?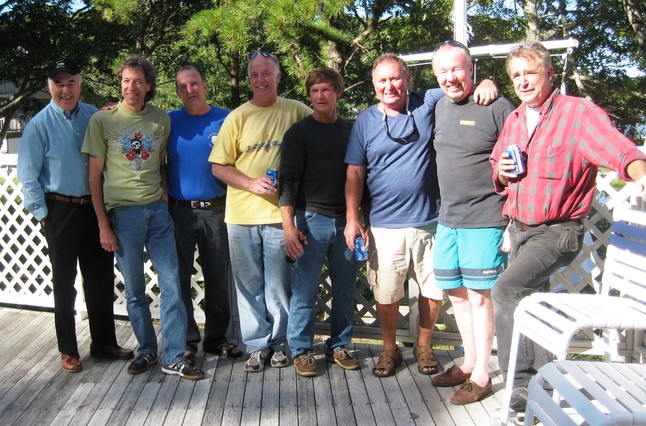 Bob Bonadies, Yurgen Geist, John Tedeschi, Ken Bassett, Steve Wallace
Arthur Ficciardi, our host - Rich Duffy, Joe Lemay
---
---
\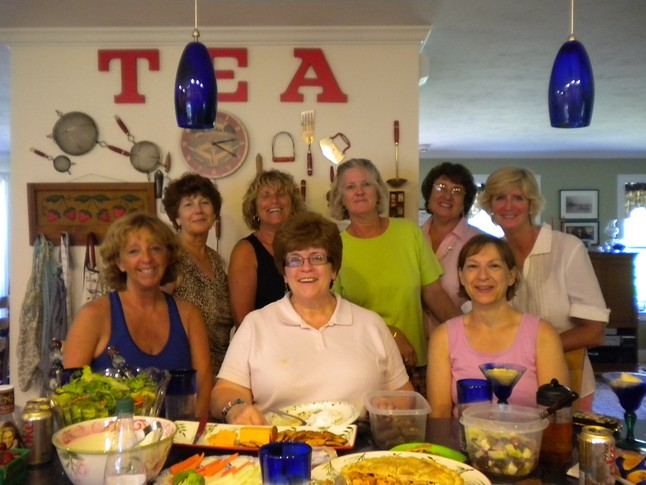 A recent gathering at Janice Savoia Kelley's home.
Ginny Wagner Sefton, Peg Driscoll, Karin Mahar Adams
Helen Newton, Janice Savoia Kelley, Mary Cunningham,
Jane Bianchi and Jane Doherty
---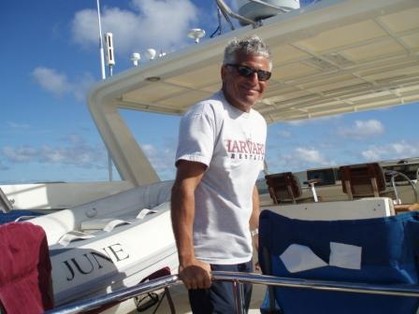 Alan Meltzer - a recent birthday
---
Mini Reunion at Mario's - April 10, 2010
NHS '67 - '68 - '69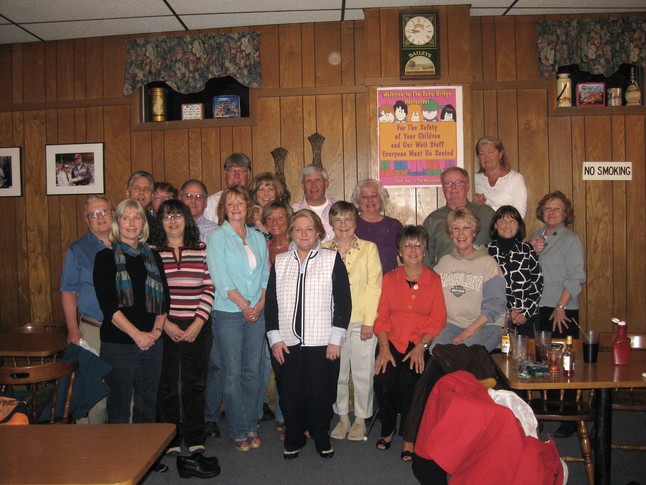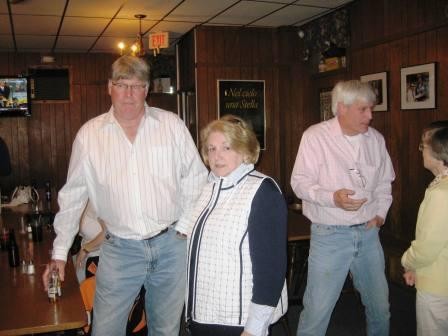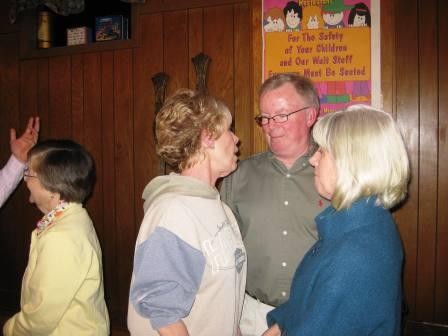 ---
---
March 2010 -Celebrating the arrival of Spring, took the '62 Fairlane for the
first cruise of the season.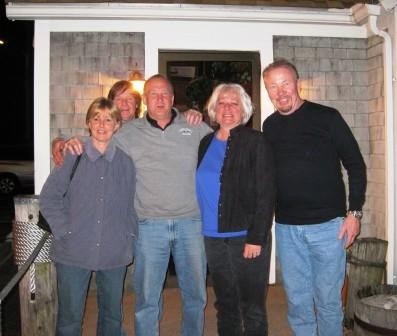 Sue Tanner, Stevie Wallace, John Tedeschi, Cathy Lemay and Rich Duffy.
Rendezvoused with a few of the "car guys" down the Cape. We sat at dinner, reminiscing about some of the adventures and rides from years ago. Were your ears ringing ? Heard funny stories about Hasenfus, Leveroni, Ricciardelli, Bassett, Osier, Geist, LeClair and others.
---
---
January 30, 2010 - Mini Reunion at Mario's with NHS '67 & '68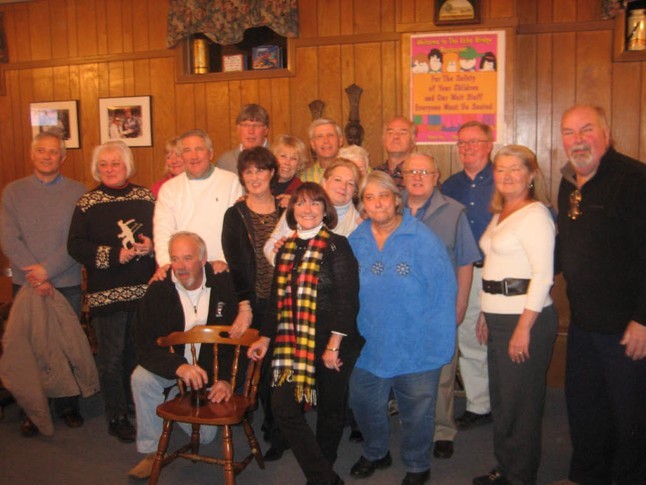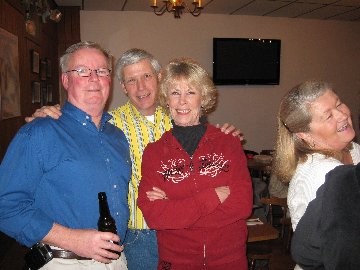 Jay Gledhill, Doug Wade, Sandi Hicks, Sue Taylor
The next mini-reunion is being planned for April. Watch for updates.
---
The Blue Tree - Needham Common
December 2009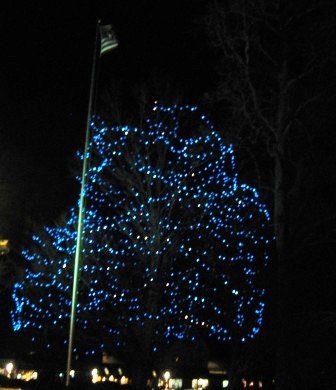 "The Story of Needham's Blue Tree"
Needham's famous blue tree was lighted for the first time on Friday December 3, 1954. It has continued to be the yearly tradition since then except for the Christmas during the energy crisis when the lights were out everywhere.
Former Selectman Clarke Wertheim is responsible for the idea of having a blue tree as Needham's principle decoration. In 1954, the merchants, especially those who belonged to the Board of Trade, took charge of decorating the downtown for the holiday season.
The tradition has been continued by the Needham Business Association(NBA) with assistance from the Department of Public Works. It is so well known that airplane pilots have been known to point it out to their passengers."
Taken from the November 1998 Needham Times, this was included as part of the half page ad for the annual lighting of the Blue Tree.
Thank you to Karen Thomas McDaniel – NHS '68 for sharing this information.
---
Sunday - December 20, 2009 - Kent Jarrell reports from Bethesda, Maryland - 20 inches of snow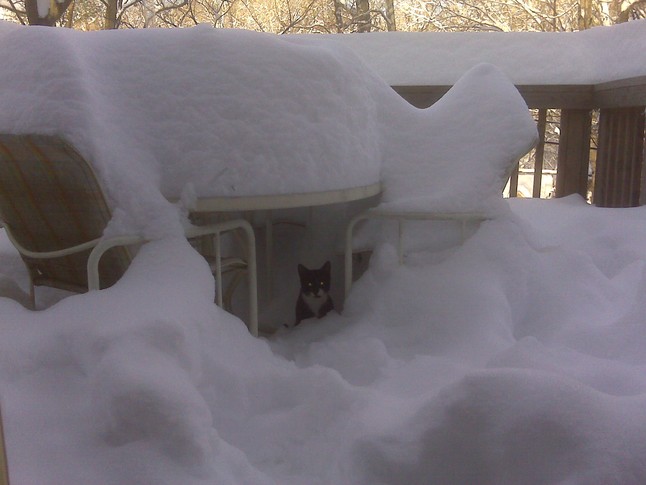 ---
October 4, 2009 - Las Vegas
with Jimmy and Mary Ellen Dolan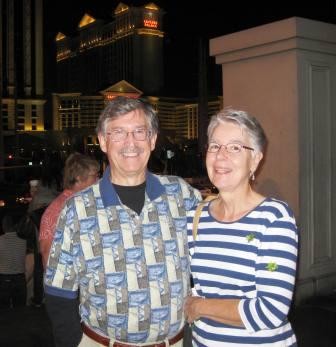 ---
---
September 19, 2009
Practicing for our Reunion next week. The fun started with a tour of Needham.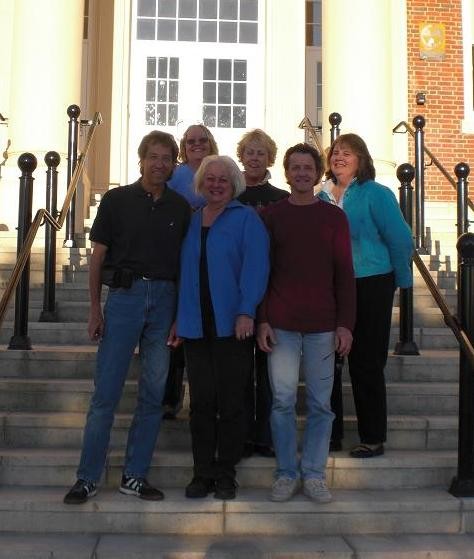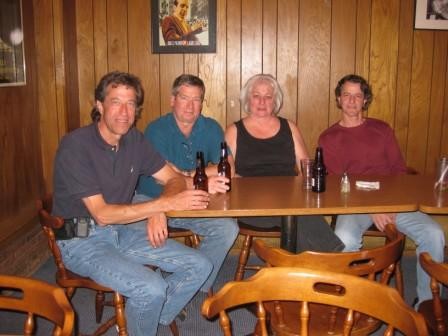 We joined the festivites at Mario's. Members from NHS classes '67, '68 and '69.
You missed a good one.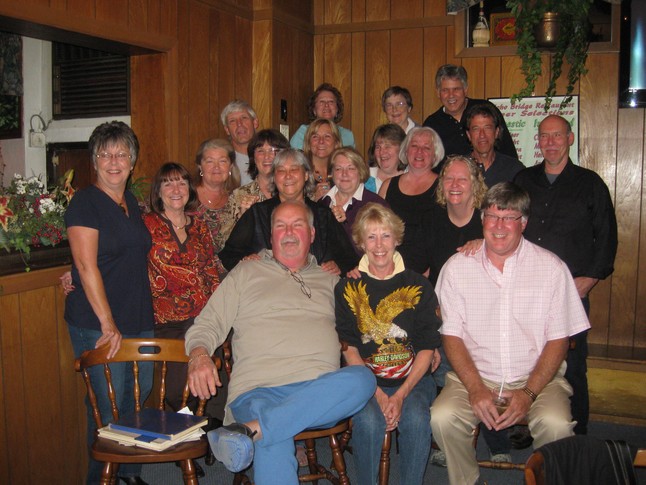 ---
It was a busy weekend, the celebrating continued Sunday in Shrewsbury at the Muscle Car Reunion. More familiar faces here too.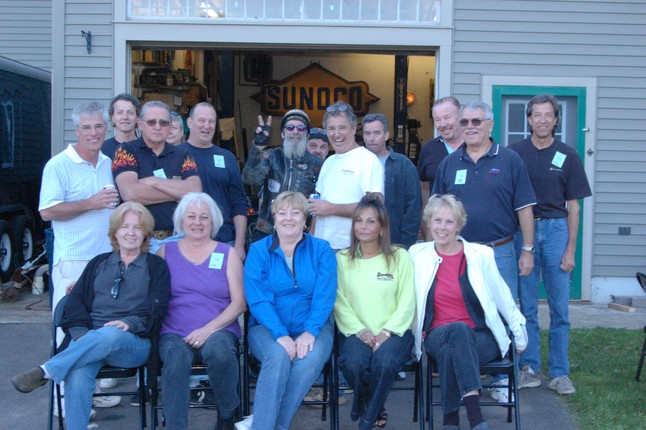 Muscle Car Reunion
Seated front row - left to right -
Helen Burke Sammarco ('72), Cathy Herendeen Lemay ('69), Nancy Herendeen Bonoli ('70), Daissy Duffy, Sandi Hicks('68)
Standing behind Helen -
Rick Lemay ('72), Charlie Hicks, Joe Lemay ('71) skip over you've got Jeff Leclair ('68) standing behind Sandi
Rear start on the left -
In between Rick and Charlie, is Henning Geist ('73), slightly hidden behind Charlie is Carmine Sammarco ('71) (Cindy Sammarco's brother), directly behind me and Charlie is John Tedeschi ('69), in the center with the beard is Tom Pomarkis, Paul "Slip" Pomarkis is hiding behind his brother, next is Tony Borrelli ('71), Rich Duffy ('69) and the reason all these guys got together, there's Yurgen Geist holding down the end.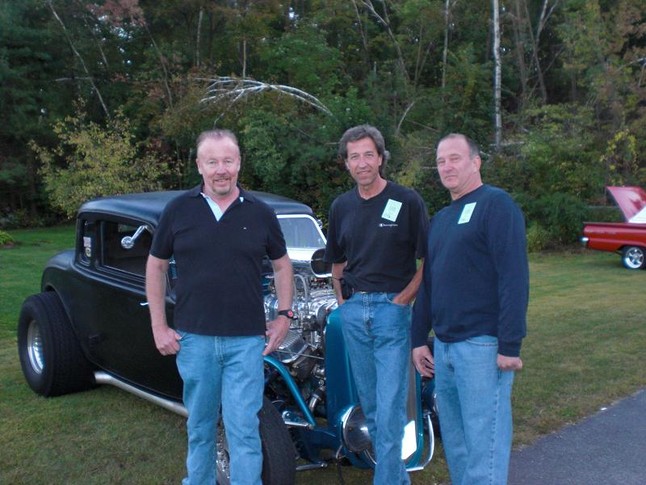 Rich, Yurgen and John
Jeff, Joe, Rich, Yurgen, John
---
---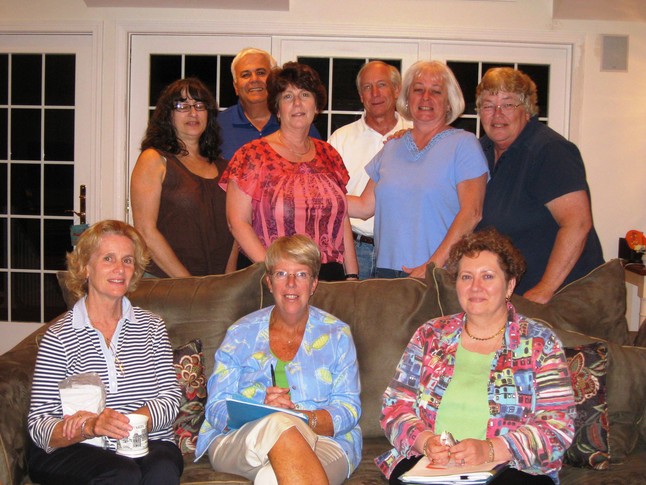 September 2, 2009 - Reunion Committee meeting
Paula Dunn, Paula Bielski Davis, Karen Ludwig
Ilene Hoffman, Helen Newton, Cathy Herendeen Lemay, Sue Robey Biasizzo
Frank Gallello, Jon Birkett
---
---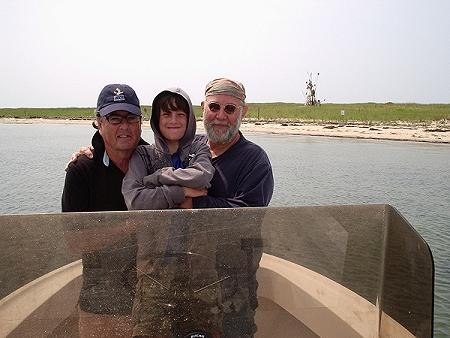 Kent Jarrell with his son, Gavin and Chris Pahud - Summer 2009
---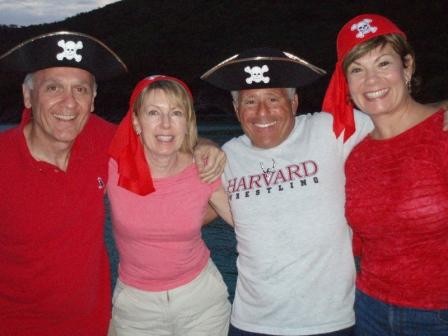 May 2009 - Mr and Mrs Vin Fantegrossi with Alan and Amy Meltzer, celebrating Alan's birthday in high style !
---
April 16, 2009 - Reunion Committee Meeting - Labels and stamps for mailing flyer to classmates.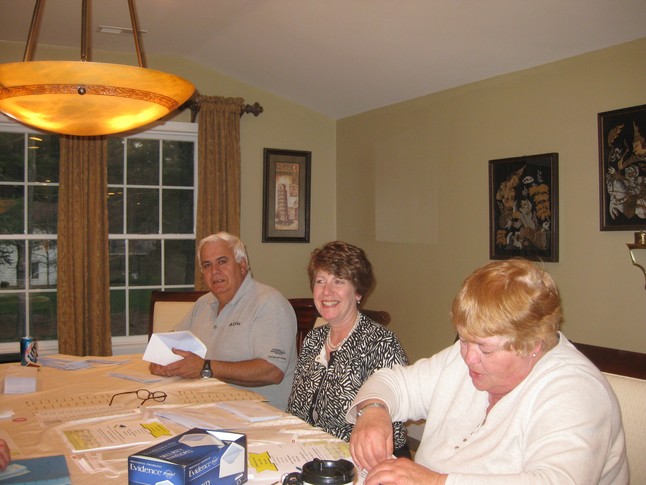 Frank Gallello, Helen Newton, Sue Robey Biasizzo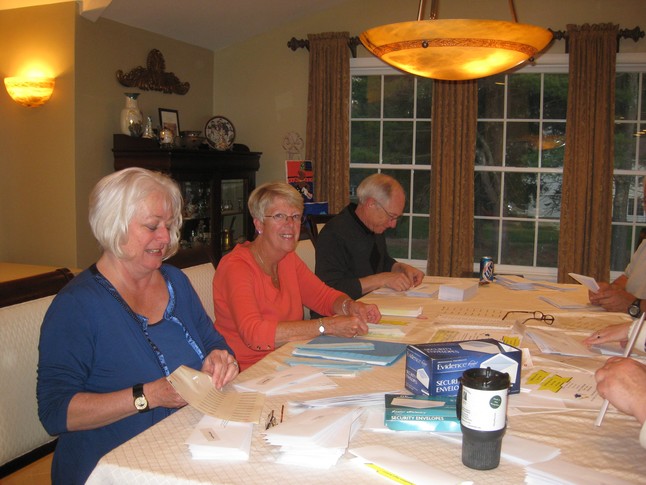 Cathy Herendeen Lemay, Paula Bielski Davis, Jon Birkett
---
---
Demolition of "C" Building on Webster Street - prep for new construction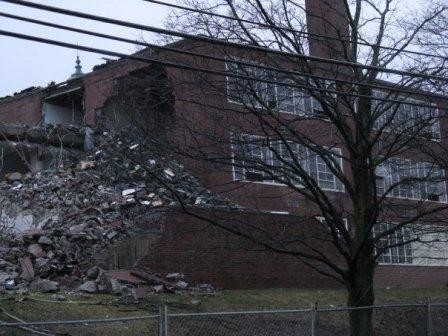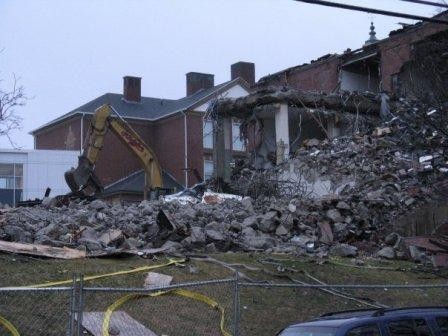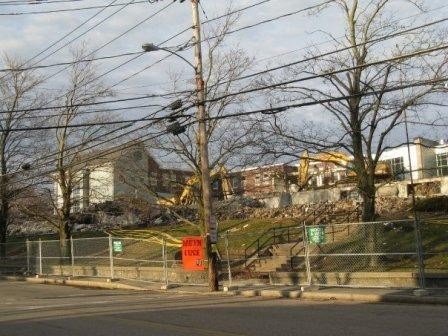 ---
---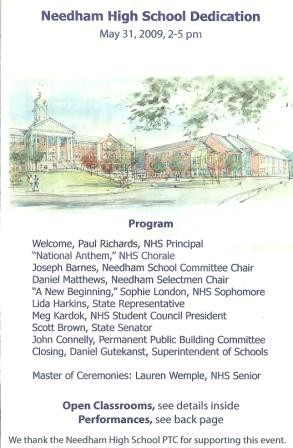 This is the new Main Entrance to the High School building.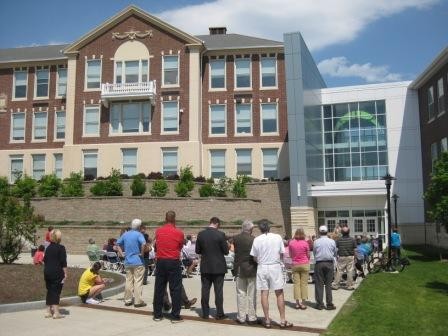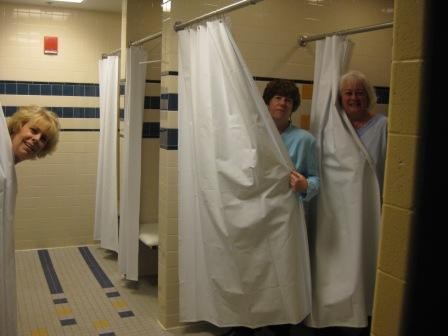 New showers in the Girl's Locker room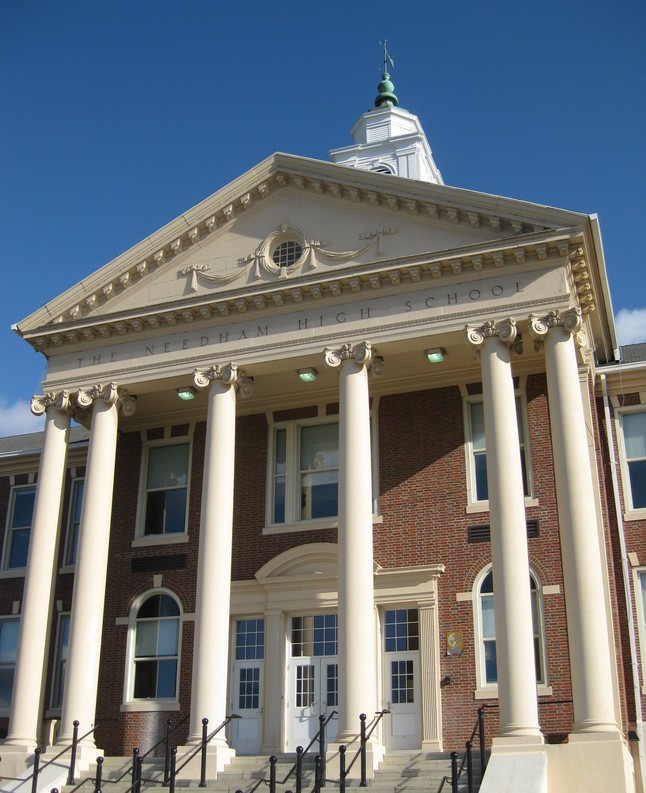 This entrance is no longer used. We were told these doors are kept locked during the day.
How sad.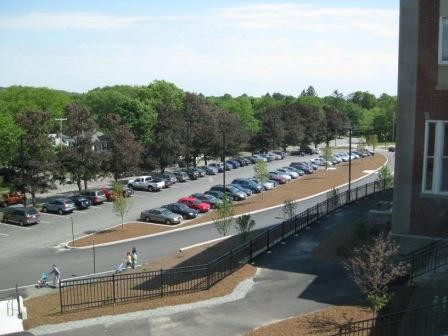 "C" building was torn down during this most recent expansion, now we have this lovely parking lot on the Webster Street side of the school building.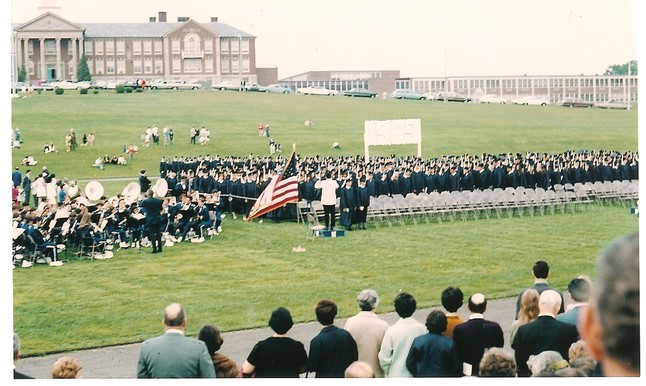 The school above on June 5, 1969 - as we remember it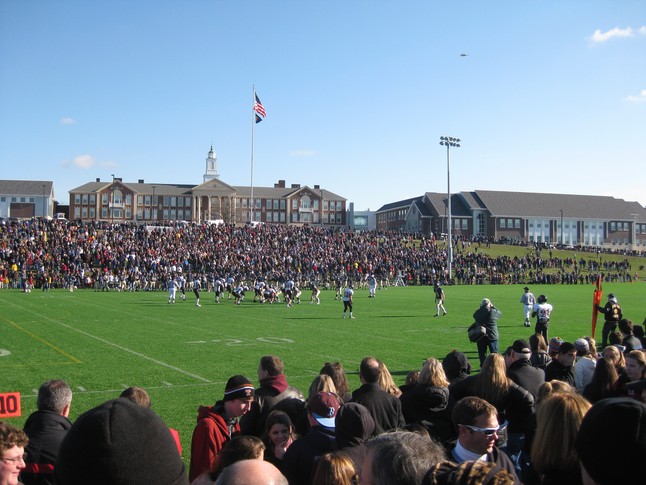 The school on Thanksgiving Day 2008